How Impressive is the 2023 Buick Enclave's Towing Capacity?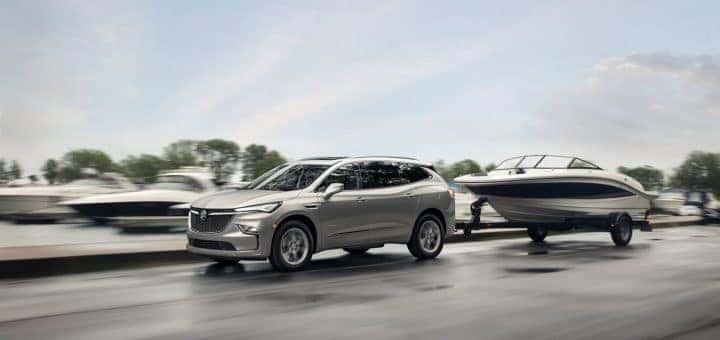 The 2023 Buick Enclave arrives with new updates and changes that give it a competitive edge. The second-generation Enclave continues to be a highly capable and versatile crossover SUV.  As one of the top-rated brands, Buick has done a lot to improve its lineup. The automaker has ramped up its electrification efforts and has been working on new electric vehicles like the Buick Electra. Despite the EV focus, Buick has still shown attention to its combustion engine lineup. One vehicle receiving attention is the Enclave which has shown strong performance. An area where this performance is highlighted is towing. We'll take a look at the 2023 Buick Enclave and see how impressive its towing ability is.
Does the Buick Enclave Have Strong Towing Ability? 
The 2023 Buick Enclave comes equipped with a naturally aspirated 3.6L V6 engine that delivers 310 horsepower and 266lb-ft of torque. The crossover SUV utilizes a 9-speed automatic transmission and offers front-wheel drive as standard. Four-wheel drive is also available. With its 3.6L engine, the 2023 Enclave manages to get a maximum towing capacity of 5,000 pounds. This is when equipped with the Trailering Package which offers a range of driver-assist features. 
Owners of the 2023 Enclave can opt for the Trailering Package to increase the SUV's overall towing capacity. Without the package, the Buick Enclave has 1,500 pounds of towing capacity. With it, the crossover SUV sees a total of 5,000 pounds. The Trailering Package also provides drivers with a trailer hitch, a heavy-duty engine cooling system, hitch guidance, and a hitch view camera.  
The 2023 Buick Enclave starts at an MSPR of $44,800 (plus destination fee). The crossover SUV offers several trims including the Premium and Avenir. These increase the SUV's overall luxury factor while providing drivers with additional driver-assist features. Buick has also added new exterior paint options including a Moonstone Gray Metallic option. While Buick is adding new vehicles to its lineup, the 2023 Buick Enclave still proves to be a highly capable and versatile crossover SUV. 
Come Test-Drive a Brand-New Buick at Southern Buick Lynnhaven!
Reserve your own 2023 Buick Enclave today with us at Southern Buick Lynnhaven. Here at Southern Buick Lynnhaven, we're all about helping our customers enjoy their shopping experience. We have a friendly and passionate sales team that will make your buying, leasing, or selling needs easy. Browse our new vehicle inventory or check out our quality pre-owned inventory. We can offer suggestions like auto financing to help make paying for a vehicle easier. 
Don't forget we have a trained service team that can help with an online appointment to get started on all maintenance work and repairs. Stop by today and see what we can do for you at Southern Buick Lynnhaven.
Photo Credit: Buick