Flat-Out Auto to Offer Two-Door GMC Sierra 1500 With Removable Hardtop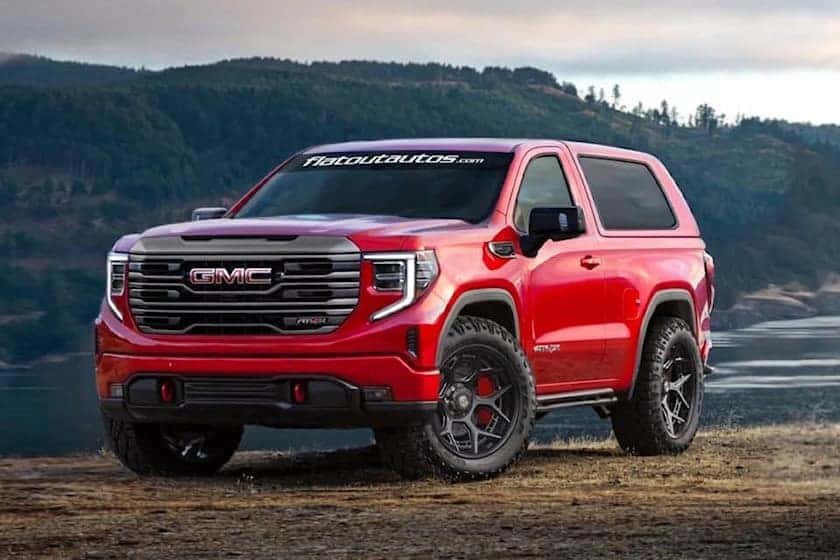 GMC Sierra 1500 fans will soon get the opportunity to purchase a variant of the iconic Sierra 1500, a two-door version with a detachable roof. This new variant will come from the auto parts and accessories group Flat-Out Auto. The parts company recently posted a picture on the social media site Facebook with a digital render of the potential Sierra 1500. Of those who saw the render, many praised the welcomed addition. According to Flat-Out Auto, those interested in the two-door GMC Sierra 1500 need only ask to see the full package details. We'll be taking a look at the full package and seeing what fans can hope to expect from the custom shop.  
Flat-Out Auto To Offer Two-Door Sierra 1500
The custom parts and accessories shop Flat-Out Auto will be offering consumers the opportunity to purchase a special variant GMC Sierra 1500. The new pickup will be a two-door version of the Sierra 1500. It will feature a removable roof, a tailgate, and four-wheel drive. For those interested in the special variant, they can contact Flat-Out Auto for more details and information. The auto group initially posted a digital render on Facebook to gauge potential interest in the new variant. The reception was overwhelmingly positive. 
The auto parts group Flat-Out Auto has modified many vehicles before. One of these was a K5 Chevy Blazer which did not see a cheap conversion price. To modify the K5 Blazer, Flat-Out used a modern-day Tahoe/Yukon pre-build. The end cost was a considerable $69,000 and that excluded the cost of the donor vehicle. As of the time of writing, there hasn't been any price information about the two-door Sierra 1500. Given the price of the K5 conversion, however, consumers can expect to pay a moderate amount. Thankfully, the modification cost would include parts, labor, and a respray.
The 2022 GMC Sierra 1500 serves as a good base vehicle for Flat-Out's modification. Starting at $31,200 (plus destination fee), the pickup proves a capable and durable vehicle. It makes use of a 3.0L turbodiesel and a 10-speed automatic transmission but for those wanting more power, Flat-Out may upgrade the engine to a more powerful 6.2L V8. Either way, consumers wanting a two-door Sierra 1500 will be in luck. Flat-Out Auto will have a purchase list for those interested. We'll be waiting to see the final product.
Come Test-Drive a Brand-New GMC at Southern Buick Lynnhaven!
Reserve your own 2022 GMC Sierra today with us at Southern Buick Lynnhaven. Here at Southern Buick Lynnhaven, we're all about helping our customers enjoy their shopping experience. We have a friendly and passionate sales team that will make your buying, leasing, or selling needs easy. Browse our new vehicle inventory or check out our quality pre-owned inventory. We can offer suggestions like auto financing to help make paying for a vehicle easier. 
Don't forget we have a trained service team that can help with an online appointment to get started on all maintenance work and repairs. Stop by today and see what we can do for you at Southern Buick Lynnhaven.
Photo Credit: Flat-Out Auto