The New GMC Hummer EV Will Come in an SUV Variant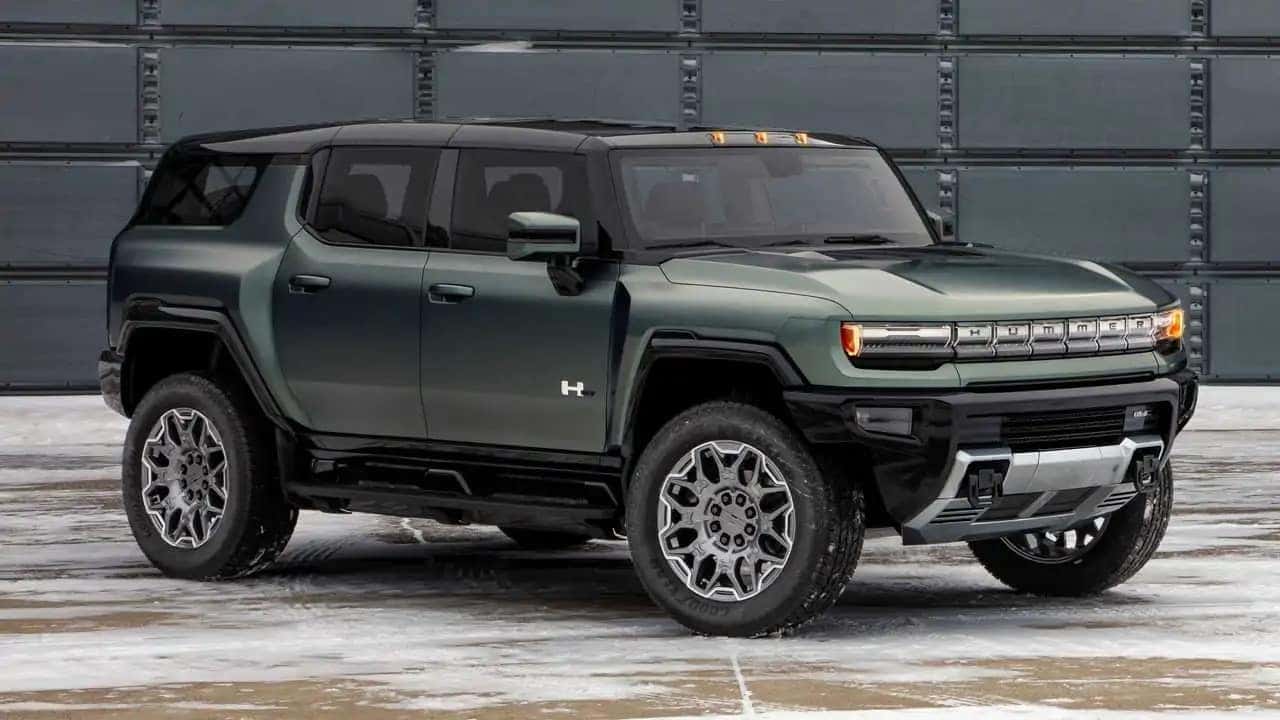 The SUV version of the Hummer EV had its debut on April 3, 2021, during the NCAA Final Four basketball game broadcast. We've managed to get a glimpse of how the SUV variant of the Hummer will look like. Much like the EV Hummer pickup truck, the SUV platform will resemble the same body style and will share the same powertrain and technical specifications. The SUV version has an aggressive and futuristic design that evokes a sophisticated presence on the road and even when parked provided by its elevated headlights, and a prominent sloping front bumper that is designed for maximum ground clearance. The only major change is seen in the rear of the vehicle, where the SUV version has a closed hardtop whereas the truck version has an open truck bed and the addition of a full-size spare tire. 
Driving and Handling
The shorter wheelbase of the SUV variant allows it to be more maneuverable in tight corners and fit more comfortably on narrow or tight off-road trials. The Hummer's signature Crab Mode (also known as four-wheel steering) is also carried over to the SUV version that adds even more agile handling and maneuverability when needed. GMC also claims that an Extreme Off-Road Package will be available in the future which will add 35-inch tires, underbody armor, underbody cameras, and other mechanical upgrades that will increase the Hummer EV's off-road capability.  
Infotainment Features
GMC has incorporated a 13.4-inch touchscreen with a host of technology and vehicle information systems that will enable the driver to be in full control of their vehicle, including enabling different driving modes. Apple CarPlay and Android Auto, including a subscription-based Wi-Fi hotspot, will be standard features. A premium Bose Stereo system, built-in navigation, and wireless charging will be available on the SUV Hummer EV as well. For added functionality, GMC incorporated a 6.0-kW onboard generator that can be utilized to power equipment, appliances, and even charge other electric vehicles. 
Performance and Range
Just like the truck version, the SUV model will be powered by two or three electric motors depending on the trim level. The EV2 and EV2X for example, have a dual-motor setup that is estimated to generate 625hp. The EV3X and Edition 1 trims will come equipped with a triple battery configuration and will be capable of 830hp. GMC claims that the Hummer EV will be able to accelerate from 0-60 in about 3.5 seconds, which are really impressive figures given the 12,000-pound median weight of the vehicle. An off-road SUV won't be complete without an adjustable air suspension, and GMC has included a custom-built air suspension known as 'Extract Mode' that can raise the ride height of the SUV Hummer EV by 6 inches. The Hummer EV is estimated to have a range of 300+ miles, but we have to wait and see on exact figures once production starts.  
Hummer EV Edition 1
GMC is offering a special model of the Hummer EV known as the Edition 1 that includes a panoramic roof with transparent sky panels, a Lunar Shadow interior color, and Moonshot Green Matte Paint. The Edition 1 has a price tag of $105,595 (plus destination fee) and is the most expensive trim in comparison with the EV2, EV2X, and EV3X. GMC states it will start producing the Edition 1 models in Fall 2021, with the rest of the other trims most likely to go on sale in late 2022 or early 2023. We will have to wait and see what other news and vehicle information GMC has planned to release in the future as we get close to the release date.  
For more information on the highly anticipated Hummer EV, you can visit the Official GMC Website to reserve your vehicle and by selecting  Southern Buick GMC Lynnhaven as your home dealership for delivery. You can also fill out our contact form for any questions you may have regarding the ordering process or any other GM vehicle that interests you.
Image Source: GMC