Here Are 6 Cool Features in the 2022 GMC Hummer EV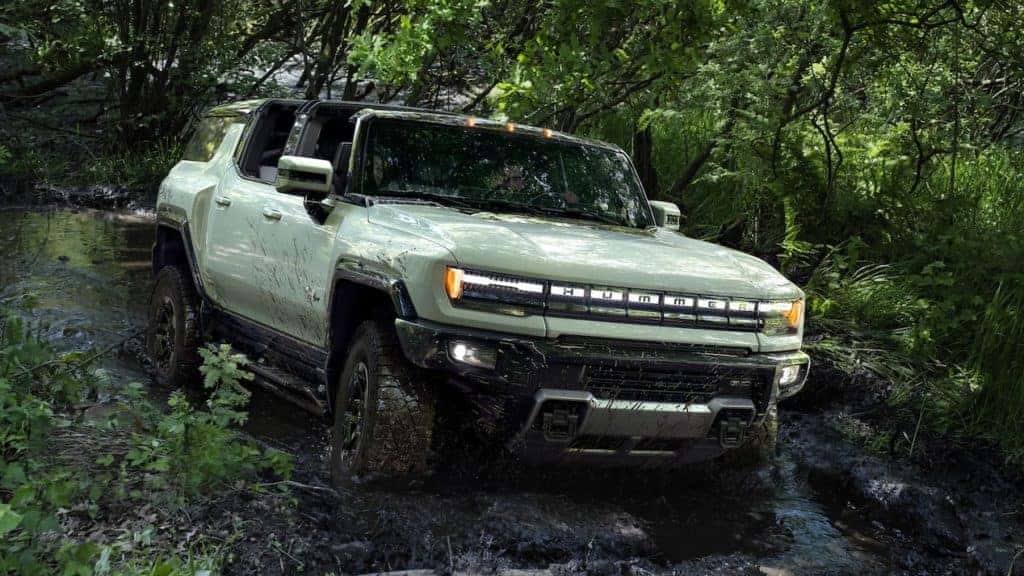 The 2022 GMC Hummer EV is gravity defying all-electric powerhouse. Equipped with a 1,000-horsepower powertrain, the EV pickup truck offers drivers unparalleled performance and versatility. As one of GMC's first electric vehicles, the Hummer EV pickup truck sets a strong standard for future EVs. The pickup's twin, the GMC Hummer EV SUV is set to launch in 2024 with similar capabilities. A GMC Sierra 1500 EV is also set to debut in 2024. While these new EVs will be just as exciting, the GMC Hummer EV arrives with some impressive features. We'll take a look at the powerful EV pickup truck and list 6 cool features that consumers should know about. 
1) Crabmode
The first exciting feature available in the 2022 GMC Hummer EV is Crabmode. One of the first features teased for the electric pickup, Crabwalk mode allows owners to move their Hummer EV in any direction using 4-wheel steer. By holding down the rear-wheel steering button, drivers can turn their rear wheels in the same direction as the front wheels. This allows the Hummer EV to move in almost any direction, including diagonally. 
2) 360-Degree Camera
Another cool feature of the GMC Hummer EV is its 360-degree camera system. Called Ultravision, this HD surround vision camera provides drivers with up to 18 camera views including a bird-eye view. These cameras show up in real time so owners will have no trouble navigating tough terrain. There are even cameras underneath the truck to ensure that drivers don't damage their vehicle or crush anything unsuspectingly. 
3) Removable Roof
Owners of the 2022 GMC Hummer EV will note the infinity roof with transparent sky panels. This roof offers an immersive experience at night and serves as a cool feature to sit back and enjoy. Owners can also remove the four panels for an open-air experience. They can also remove the front I-bar for a completely open view.
4) Super Cruise
Another cool feature is Super Cruise. Serving as a hands-free driving feature, Super Cruise is advanced driver-assist technology that works on compatible roads. The technology provides ease and convenience by keeping the vehicle centered. Using real-time cameras and sensors along with map data, the feature can even change lanes automatically. The feature can also work with trailering so drivers can tow and haul all while hands-free.  
5) Frunk
While common on most electric vehicles, the GMC Hummer EV's frunk serves as another area of storage. Using the combination of front and trunk, the frunk can be used to store any items that need to be secured. The GMC Hummer EV also features stackable foam boxes to keep the glass panels in should owners decide to remove their roofs.
6) Driver Modes
One final cool feature of the electric pickup truck is its various driver modes. These driver modes can be used with the center-mounted 13.4-inch touchscreen. They display elaborate animations such as the pickup on the moon or on mars. The modes include normal, off-road, tow/haul, Crabmode, Extract, and Watts To Freedom. Off-road and tow/haul are self-explanatory, but with Watts to Freedom, drivers receive a powerful performance boost. Extract mode also helps drivers navigate through tough terrain. With so many cool features, the 2022 GMC Hummer EV serves as a highly versatile pickup truck.
Come Test-Drive a Brand-New Buick at Southern Buick Lynnhaven!
Reserve your own 2024 GMC Hummer SUV EV today with us at Southern Buick Lynnhaven. Here at Southern Buick Lynnhaven, we're all about helping our customers enjoy their shopping experience. We have a friendly and passionate sales team that will make your buying, leasing, or selling needs easy. Browse our new vehicle inventory or check out our quality pre-owned inventory. We can offer suggestions like auto financing to help make paying for a vehicle easier. 
Don't forget we have a trained service team that can help with an online appointment to get started on all maintenance work and repairs. Stop by today and see what we can do for you at Southern Buick Lynnhaven.
Photo Credit: GMC