A Review of the 2021 GMC Yukon Denali: A Premium Family SUV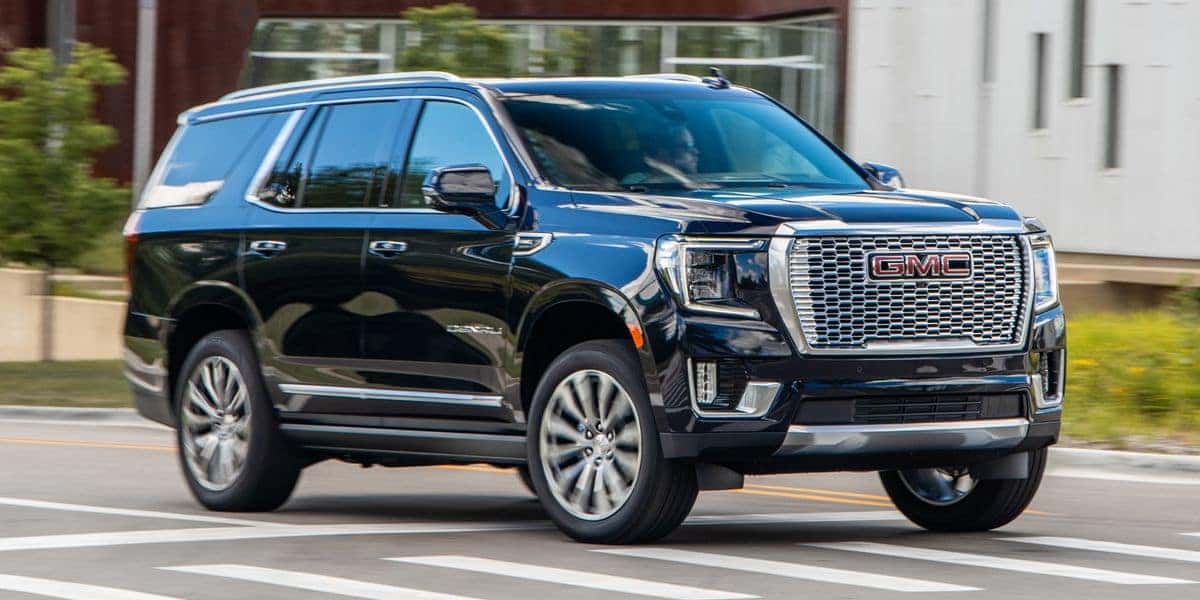 The all-new 2021 GMC Yukon Denali is GMC's latest premium full-size family SUV that offers a spacious interior and capability both on and off-road. The Yukon Denali is the pinnacle of American SUV luxury for families that seek an SUV that delivers in the areas of style, class, durability, and prestige. Buyers of the Yukon Denali can expect to drive in a comfortable and noise-canceling cabin with plenty of technology and safety features. GMC is marketing the Yukon Denali in three benchmark categories that include: premium, purposeful, and all-terrain.
Premium SUV Qualities
The Denali trim is the top tier trim of the Yukon family of SUVs and it comes equipped with an exclusive interior appointed with leather seat surfaces and natural grain wood accents. Drivers will be rewarded with a 15-inch heads-up display where they will be able to see speed, navigation, safety features, and off-road information. On the center dash, the Denali has a 10.2-inch touchscreen for media functions and connectivity, in addition to having 12.6-inch touchscreens in the second row as entertainment hubs for the kids and other backseat passengers. A panoramic sunroof will come as an option in addition to having a first-in-class power-sliding center console for storing items. With a touch of a button, the center armrest shifts backward to reveal extra storage space and brings cupholders closer to those sitting in the rear.
Performance and Exterior Features
The exterior of the GMC Yukon Denali is met with a prominent front honeycomb grille with a mix of satin silver and chrome accents connected to GMC's signature C-shaped LED headlights. The Yukon Denali comes standard with 20-inch 6-spoke polished aluminum wheels, but prospective buyers can upgrade to 22-inch machine aluminum wheels if they desire. The engineers at GMC also added a bit of sporty flavor to the Yukon Denali with a dual exhaust system that features stainless-steel quad-exhaust tips. Under the hood of the Yukon Denali is a 6.2 L V8 engine that dishes out 420hp and 460 lb-ft of torque which is plenty of power to get going on the road. A fully loaded 2021 GMC Yukon Denali can seat up to eight passengers comfortably and can tow up to 7,700 lbs.           
All-Terrain Capability
The 2021 GMC Yukon Denali offers buyers a luxury experience for the whole family, but the engineers at GMC also made sure this full-size SUV is also off-road capable. Drivers can take advantage of the traction-boosting active response AWD system, magnetic ride control, and the onboard air suspension system to add ground clearance for challenging terrain environments. These are vehicle characteristics that are attributable to the AT4 trim, which is specifically designed to be more adaptable to off-road environments than any other trim. The AT4 has a front-facing skid plate on the lower half of the bumper to protect the underside from road debris, two red-colored recovery hooks on the front, and 20-inch aluminum wheels wrapped in all-terrain tires for off-road driving.        
Price Details and Vehicle Options
The Yukon Denali is the perfect SUV platform for the active family that enjoys going on road trips and traveling with comfort and plenty of infotainment features.  Buyers will be able to choose from two body types, from the standard Yukon that starts at a price tag of $51,000 (plus destination fee) from the larger Yukon XL that has a starting MSRP of $60,800 (plus destination fee).   
For more information on how you can get your hands on a 2021 GMC Yukon, you can visit us at Southern Buick GMC Lynnhaven. You can also fill out our contact form for any questions you may have on pricing or vehicle configuration options. Or you can call us to schedule a tour of our on-site dealership inventory, we can help you select your new next family SUV!
Image Source: GMC