2022 GMC Sierra 1500 Denali to Receive New Refresh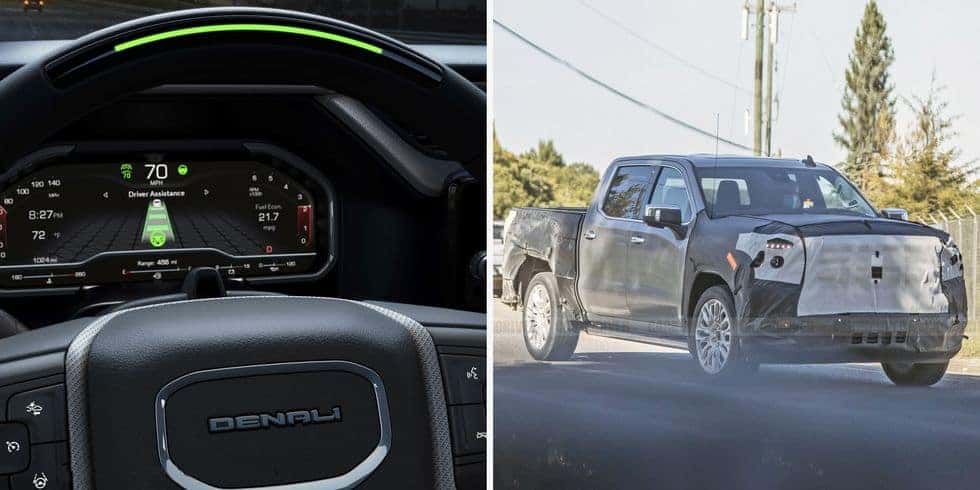 GM has been making headlines with its recent updates to its lineup. Vehicles like the GMC Acadia, the GMC Terrain, and the GMC Canyon have received some form of an update or overhaul. Now the 2022 GMC Sierra 1500 Denali is next up to receive a refreshed look. GM will be updating the full-size pickup with a new exterior and interior that will blend comfort with luxury. The Denali trim level warrants a higher level of style, so the new GMC Sierra 1500 will be sure to highlight this aspect. GM will also install some new technology and features like the Super Cruise driver assist.
2022 GMC Sierra 1500 Denali to Get New Updates
GM's newly refreshed 2022 GMC Sierra 1500 Denali has been spotted under wraps with several changes and improvements. From what could be seen from spy shots, it appeared that the full-sized pickup had a new front fascia, a new rear fascia, and some other additions like front air curtains. The 2022 GMC Sierra 1500 Denali looks to have a redesigned exterior to improve function and performance. The air curtains can be seen peeking out from the sides of the front bumper. These will work as a functional design element. They will improve aerodynamics by directing incoming air around the vehicle's wheels instead of into the wheelhouses. This will reduce drag and improve fuel economy.
Looking at the 2022 GMC Sierra 1500 Denali, chrome tow hooks can be seen in the front along with a large Denali grille. Full-length chrome running boards can also be seen spanning the wheels. The wheels look to be Denali-themed with their multi-spoke design and polished finish. The rear end of the pickup can't be seen as easily due to the wrappings, so not much is known there but the design will probably fit in with the higher-end trim level.
The interior of the 2022 GMC Sierra 1500 Denali will also receive some new updates. The cockpit will be overhauled with horizontally-oriented air vents as well as a larger center screen. It seems HVAC controls will be implemented below the center screen along with a switch bank. The instrument panel will get a more modern and digital look. This will help drivers utilize their driver-assist features. One of these features is GM's Super Cruise system which was unveiled recently. GM has stated that its new lineup will come installed with the semi-autonomous driver-assist Super Cruise system. For the 2022 GMC Sierra 1500 Denali, this semi-autonomous system will allow drivers to haul just about anything like trailers. The release date for the full-sized pickup hasn't been confirmed, but it's expected to be available at the beginning of 2022.
Come Test-Drive a Brand-New GMC at Southern Buick Lynnhaven!
Reserve your own 2022 GMC Sierra 1500 Denali today with us at Southern Buick Lynnhaven. Here at Southern Buick Lynnhaven, we're all about helping our customers enjoy their shopping experience. We have a friendly and passionate sales team that will make your buying, leasing, or selling needs easy. Browse our new vehicle inventory or check out our quality pre-owned inventory. We can offer suggestions like auto financing to help make paying for a vehicle easier.
Don't forget we have a trained service team that can help with an online appointment to get started on all maintenance work and repairs. Stop by today and see what we can do for you at Southern Buick Lynnhaven.
Photo Credit: GMC