The Best 3 Buick SUVs to Consider this Season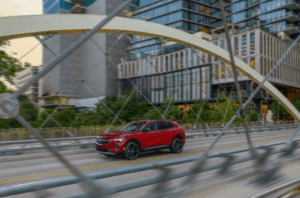 When it comes down to finding the best quality vehicle, many people do as much research as possible. One great thing about getting a Buick SUV is that choosing one is constantly a fantastic choice.
These automobiles are best in their class for fuel efficiency, performance, plentiful protection features, and reliability. Here are the three top Buick SUVs to get.
One: 2023 Buick Encore GX
The Buick Encore GX has a style like no other SUV. It has exclusive turbocharged engine options and is filled with tech and protection features. Some standard features are its 8-inch touchscreen, wireless Apple CarPlay, Android Auto, wireless charging, and a height-adjustable driver's seat. Lane keep assist and the automatic emergency braking are only some of those features.
Its excellent tech and protection features, perky styling, and sensible cabin layout have this automobile hitting a high rating with MotorTrend for a first-rate SUV. It incorporates a turbocharged 1.2-liter three-cylinder engine that generates 137 horsepower and 162 lb-feet of torque. The Buick Encore is an advanced combination of luxury and efficiency.
Two: 2023 Buick Envision
The 2023 Buick Envision offers only one engine, a turbocharged 2.0-liter four-cylinder unit that produces 230 hp and 258 lb-feet of torque. It also comes with a rearview camera, automatic emergency braking, lane keep assist, blind spot monitoring, and other driver-assistance features as standard. It comes in three trims, Preferred, Essence, and Avenir, and the Avenir offers additional comfort and convenience. The Envision is a midsize crossover and is equipped with many luxury features. 
An 8-inch touchscreen infotainment system with Apple CarPlay and Android Auto abilities dominates the dashboard. The Envision earned high scores are its powertrain, composed ride, comfortable and quiet interior, and sharp exterior design based on MotorTrend.
Three: 2023 Buick Enclave
Get ready to have a luxurious experience with the Buick Enclave. It has a heated seat that will keep its front-seat passengers all toasty in the cold weather. The 2023 Buick Enclave is a full-size crossover SUV with three rows of seating for up to seven passengers. Not only can it seat seven passengers, but they will also be able to enjoy premium leather upholstery and an 8-inch touchscreen infotainment system with Apple CarPlay/Android Auto. Drivers will be happy to learn that the Enclave's three-zone automatic climate control is a standard feature.
The 2023 Enclave can move up to 20 mpg withinside the city, 17 mpg on the highway, and 25 mpg combined. Buick Enclave is powered by using an effective 3.6-liter V6 engine that produces 310 hp and 266 lb-feet of torque. MotorTrend highlighted the 2023 Enclave for its serene, smooth ride, attractive design, and suitable third-row legroom for the class.
Southern Buick Lynnhaven
Each of those Buick models has something specifically unique about them. With a lot of variety among them, they're worth considering; even as you are seeking out an automobile right here at Southern Buick Lynnhaven, test drive before making your final decision. A reliable, luxurious SUV with lots of capabilities is what you'll find while looking at these vehicles.