GMC Releases New Video of Driver Interface Animations for Hummer EV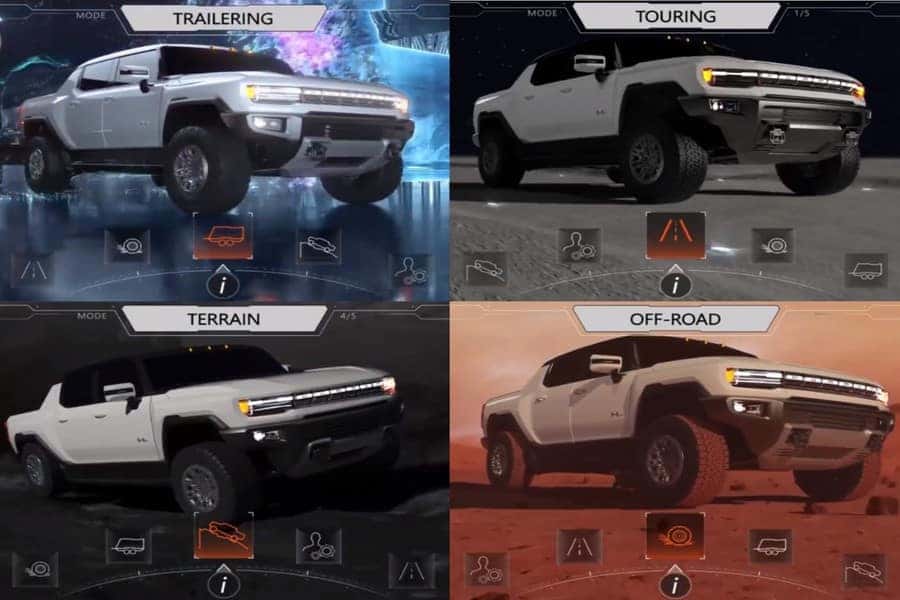 GMC released a short clip on its company Instagram page previewing the colorful animations that appear on the driver interface of GMC Hummer EV every time the driver changes driving modes. An animation appears for each selection that adds an extra layer of immersion and excitement while driving. For prospective buyers seeking a futuristic-looking SUV, the Hummer EV is the ideal vehicle that offers plenty of high-tech features, a premium driver's experience, and world-class off-road performance.
New Animations
The Offroad mode shows the vehicle driving over a rough and rocky dirt surface, while the Trailering mode displays it driving on a smooth, paved road towing a trailer. Switching to the Touring mode shows the vehicle driving on the surface of the moon, and the Terrain option showcases the Hummer EV driving over bumpy terrain. These animations elevate the driver's experience even higher by bringing the system interface of the vehicle to life instead of having static and boring icons that don't have any functions or movement. 
Amazing Graphics
The animated graphics look like a high-end video game and there is a very good reason for the amazing quality of the animations. The interface and infotainment screen in the Hummer EV will run via Epic Games' patented Unreal Engine (a video game graphics software that serves as the foundation for some of the most popular video games in the world today).  
General Motors also hired an innovative and creative design company called Perception to design the Hummer EV's interface graphics. The company has experience creating futuristic settings and sequences for many Marvel films making them the ideal group of people to animate the user interface of the Hummer EV. Creating high-end and graphically intensive animations for a vehicle's infotainment and instrument cluster improves the driver's experience and elevates the value of the vehicle by a considerable margin.    
Reserve Your Hummer EV Today
The new Hummer EV is a gasoline-free platform eliminating the need to fill up at the gas station, offers an extensive amount of driving range, seating for five passengers, and ample room to carry equipment and other items for recreational activities. World-class off-road performance is the Hummer EV's strong suit and it comes ready to challenge the competition with its rugged design, high-tech features, and futuristic vehicle system animations. Take the first step toward owning a new Hummer EV and start your reservation today, and select Southern Buick GMC Lynnhaven as your home dealership for delivery and pickup. For more information on the ordering process, fill out our contact form and our dealership staff will be able to answer any questions you may have. We also have a wide selection of GMC SUVs with amazing deals and discounts you don't want to miss! 
Image Source: GMC