GM to Ramp Up GMC Hummer EV Production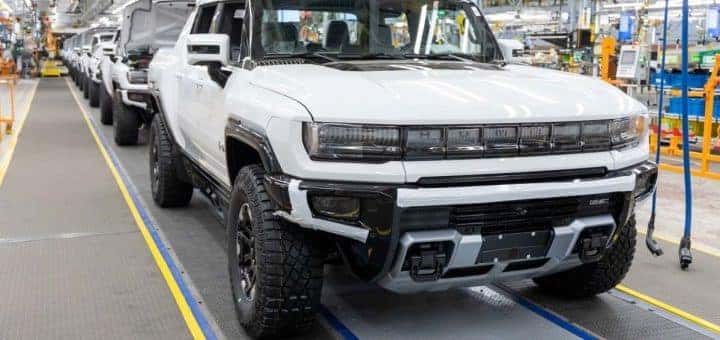 General Motors (GM) will be increasing the production of its 2023 GMC Hummer EV. The all-electric Hummer has been making headlines given its capability and high performance. Many consumers have been placing reservation orders based on the performance and technology features such as the unique crab walk mode. General Motors will ramp up output at its factory Zero plant in order to meet the high demand for reservation orders. GM, like many other automakers, has been working toward EVs. The GMC Hummer EV will be the first EV to come from GM, but the automaker will soon begin work on others like the Buick Electra. For now, we'll focus on the Hummer EV and the increasing demand around it.
GMC Hummer EV Sees Increased Production
General Motors (GM) will be ramping up production of the all-new 2023 GMC Hummer EV. GM has been teasing the Hummer EV for some time. The all-electric pickup is set to come equipped with a host of technology and safety features including a powerful range of specs. Some of these include a triple motor powertrain, heavy-duty off-road cladding, and 329 miles of range. There's also the special crab walk mode which utilizes all four wheels to turn diagonally. Based on the roughly 59,000 pre-orders, consumers like what they see. This comes after the fact that the EV pickup starts at a hefty MSRP of $112,595 (plus destination fee). GM will eventually release cheaper variants, but for now, that's the price to pay for this powerful EV.
GM's CEO Mary Barra recently spoke about plans to produce another 23,000 units of the 2023 Hummer EV. Barra also stated that she hopes to sell 400,000 battery-electric vehicles by January 2024. This may seem quite a sizeable feat, but with the interest in the Hummer EV and GM working on other EVs like the Chevy Silverado EV, the automaker may eclipse that number. About their future plans, Barra said,
"Our plan creates the broadest EV portfolio of any automaker and further solidifies our path toward U.S. EV leadership by mid-decade," said Mary Barra.
The 2023 GMC Hummer EV has already started being delivered to those who ordered a unit. Production will ramp up throughout 2022, so consumers should be on the lookout for their orders. 
Come Test-Drive a Brand-New Buick at Southern Buick Lynnhaven!
Reserve your own 2023 GMC Hummer EV today with us at Southern Buick Lynnhaven. Here at Southern Buick Lynnhaven, we're all about helping our customers enjoy their shopping experience. We have a friendly and passionate sales team that will make your buying, leasing, or selling needs easy. Browse our new vehicle inventory or check out our quality pre-owned inventory. We can offer suggestions like auto financing to help make paying for a vehicle easier. 
Don't forget we have a trained service team that can help with an online appointment to get started on all maintenance work and repairs. Stop by today and see what we can do for you at Southern Buick Lynnhaven.
Photo Credit: GMC