GM Hopes to Increase Production of GMC Hummer EV after Exceeding Expectations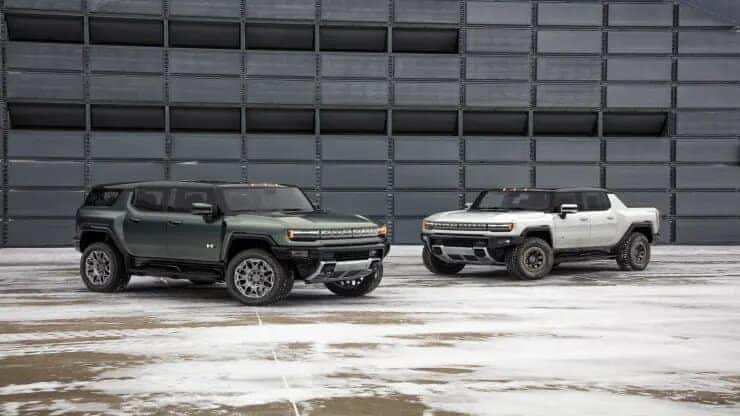 General Motors (GM) will be increasing the production of its all-new 2023 GMC Hummer EV. The all-electric pickup has been teased as having the next level of electric performance. Reservation orders for the Hummer EV have seemingly exceeded the expectations of the automaker which has caused GM to put more focus on production. Production has been ongoing for the electric SUV, but due to the vast amount of reservation orders, GM will have to move delivery dates to 2024. Aside from the GMC Hummer, GM has been working on other EVs like the 2023 Cadillac Lyriq. We'll focus on the 2023 Hummer EV, but it's good to see GM ramping up its lineup of electric vehicles. 
GM to Increase Production of GMC Hummer EV
According to General Motors (GM), they have received more than 65,000 reservation orders for the all-new 2023 GMC Hummer EV. This is great news for the automaker especially given that the all-electric pickup will start at an MSRP of $108,700 (plus destination fee). GM understands that the price may be a bit much for some, so they will be working on lower-priced versions within the range of $80,000 to $100,000. There will also be a Limited Edition 1 trim for the electric pickup that will start at $110,295 (plus destination fee).
The 2023 GMC Hummer EV has started production and those who ordered theirs should see it delivered later in 2023. The electric pickup is currently being built and tested at the automaker's Detroit factory. It will utilize GM's new Ultium EV platform which is set to feature next-generation battery cells. Due to the high demand for supplies and cells needed for the Hummer EV, GM will have to postpone some orders for 2024. About the production of the pickup, GMC vice president Duncan Aldred said,
"Production's actually slightly ahead of plan and we're putting things in place now to actually expedite that as well, so we can deliver these reservations quicker than we originally thought," said Aldred. "We're seeing momentum building."
Those interested in the 2023 GMC Hummer EV can still place their orders, but due to the high demand and lack of supplies, GM will have to set a delivery date of 2024. There is also an SUV version of the Hummer EV though many have placed orders for the pickup. This may be due to the fact that it was released first. Either way, we're excited to see the 2023 GMC Hummer EV hit the streets. 
Come Test-Drive a Brand-New Buick at Southern Buick Lynnhaven!
Reserve your own 2023 GMC Hummer EV today with us at Southern Buick Lynnhaven. Here at Southern Buick Lynnhaven, we're all about helping our customers enjoy their shopping experience. We have a friendly and passionate sales team that will make your buying, leasing, or selling needs easy. Browse our new vehicle inventory or check out our quality pre-owned inventory. We can offer suggestions like auto financing to help make paying for a vehicle easier. 
Don't forget we have a trained service team that can help with an online appointment to get started on all maintenance work and repairs. Stop by today and see what we can do for you at Southern Buick Lynnhaven.
Photo Credit: GM