A Look at the All-New 2023 GMC Canyon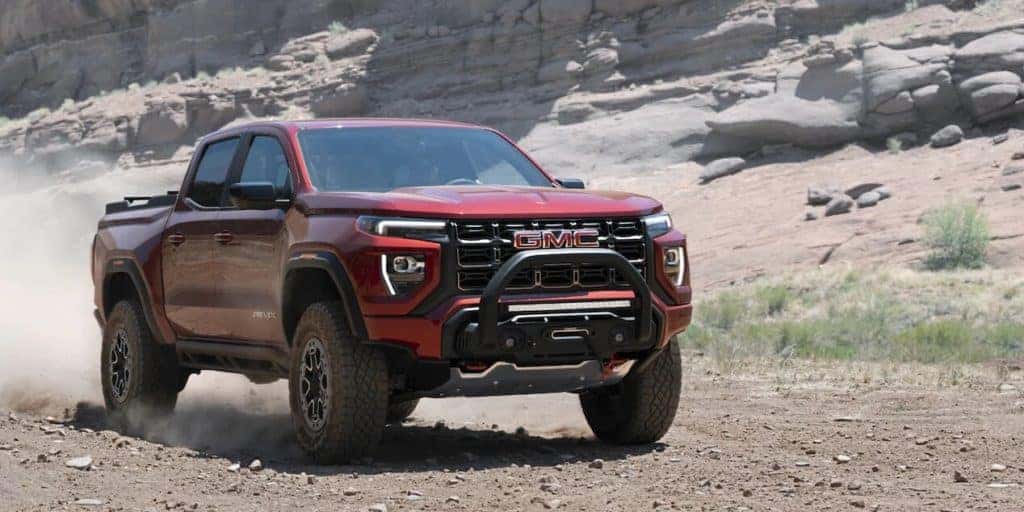 The all-new 2023 GMC Canyon is finally here. Powerful and rugged, the next-generation Canyon has been fitted with tough hardware and advanced features that make it highly capable. The 2023 GMC Canyon also has several trims that further improve its performance. While GMC has been focused on its EVs like the GMC Hummer EV SUV, this has not stopped the automaker from improving its combustion engine lineup. The 2023 Canyon has been teased for some time, but in seeing the mid-size pickup and its capability, it seems to have been well worth the wait. We'll take a look at the all-new 2023 GMC Canyon and see what consumers can expect. 
What Does the Next-Generation 2023 GMC Canyon Offer?
The all-new 2023 GMC Canyon has arrived as one of the most powerful iterations in the Canyon lineup. GMC has fitted the mid-size pickup truck with impressive hardware and features that give it a powerful edge over others in its class. Available in several trims–AT4X, AT4, Denali, & Elevation– the 2023 Canyon comes equipped with a 2.7L turbo engine. This engine offers 310 horsepower and 430lb-ft of torque. It also provides the 2023 Canyon with 7,700 pounds of towing capacity. Together with a high and wide stance, the mid-size pickup proves to be a highly capable truck.
Alongside its high torque engine, the 2023 GMC Canyon also arrives with a 36.9-degree approach angle and 10.7-inches of ground clearance. This combined with 20-inch wheels helps drivers maneuver tough trails and terrain. As far as off-road features go, the Canyon has a drive mode selector with off-road and terrain modes. It also has advanced hill descent control and four-wheel drive with automatic locking rear differentials. 
Inside the 2023 GMC Canyon, owners will note a modern and stylish interior. Depending on the trim, the mid-size pickup will feature either an Obsidian Rush or a Jet Black interior with ceramic/teak accents. The Canyon comes equipped with an 11-inch diagonal driver display screen and an 11.3-inch touchscreen. The touchscreen features an off-road performance system and there's also a 6.3-inch head-up display that provides information like speed and safety alerts. A 10-view camera system is also standard. The next-generation 2023 GMC Canyon is set to arrive at the beginning of 2023, but those interested can start placing their reservation orders.
Come Test-Drive a Brand-New GMC at Southern Buick Lynnhaven!
Reserve your own 2023 GMC Canyon today with us at Southern Buick Lynnhaven. Here at Southern Buick Lynnhaven, we're all about helping our customers enjoy their shopping experience. We have a friendly and passionate sales team that will make your buying, leasing, or selling needs easy. Browse our new vehicle inventory or check out our quality pre-owned inventory. We can offer suggestions like auto financing to help make paying for a vehicle easier. 
Don't forget we have a trained service team that can help with an online appointment to get started on all maintenance work and repairs. Stop by today and see what we can do for you at Southern Buick Lynnhaven.
Photo Credit: GMC