A Comprehensive Look at the 2022 GMC Acadia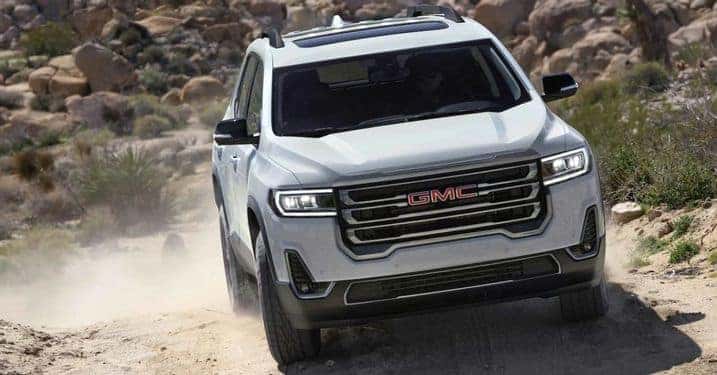 The 2022 GMC Acadia faces tough competition in the world of SUVs. Since the Acadia's introduction in 2017, the family-sized SUV has been competing against other offerings in its segment. Over the years, the SUV has garnered some attention but alas, it has struggled to remain a top-class vehicle in such a saturated market. Despite this, GMC's renewed efforts help the 2022 GMC Acadia offer consumers a safe and comfortable driving experience that is unique to GMC. The new 2022 SUV model delivers several new improvements as well as several new features. For those looking for a good family-sized SUV, the 2022 GMC Acadia provides more than is necessary.
Interior of the 2022 GMC Acadia
The 2022 GMC Acadia received several new upgrades to its interior and exterior. The family-sized SUV also received new features in the way of safety and technology. The base 2022 GMC Acadia comes with a 2.0L turbocharged inline-4 capable of 228 horsepower and 258lb-ft of torque. This engine comes standard in the base SLE and SLT trims. Higher-level trims like the AT4 and Denali come standard with a 3.6L V6 motor engine capable of 310 horsepower and 271lb-ft of torque. Both engine types feature front-wheel drive while all-wheel drive is optional. On the AT4 trim, standard active torque control is used with an all-wheel-drive system. A 9-speed automatic transmission comes standard and an EPA estimated 25 mpg can be achieved with the 2.0L front-wheel drive. 21 mpg can be achieved with the 3.6L V6 all-wheel drive. 
Inside the 2022 GMC Acadia, drivers will note a sleek interior with a comfortable layout. The Denali trim adds a more luxurious feel along with special features, but overall the SUV holds up. With all three rows up, drivers can expect to get 12.8 cubic ft of cargo space. By folding the second row, 79 cubic ft can be attained. Buttons complement the 8-inch touchscreen mounted to the center console. The infotainment system features a built-in Wi-Fi hotspot with available 4G LTE data along with built-in Amazon Alexa capabilities. The AT4 trim comes with 5 USB ports and the Denali trim gets wireless charging. 
Exterior of the 2022 GMC Acadia
The 2022 GMC Acadia comes available in four different trims, the SLE, SLT, AT4, and Denali. The SLE and SLT are more generic models while the AT4 stands out with its off-road capabilities. The Denali offers consumers a more luxury-focused SUV. Overall, the family-sized SUV looks to be somewhat bulkier, but the brawny form gives it a solid look that reinforces a safe vehicle. Two new 18 and 20-inch wheel designs are available and for the Denali trim, exclusive 17-inch wheels come standard. A new exterior shade is available for the SUV, Light Stone Metallic. 
Each trim offers something different for consumers. The AT4 trim stands out the most with its all-terrain tires and blacked-out elements. The Denali trim features plush chrome inserts and rims that speak to its price tag. The lesser SLE and SLT trims feature an exclusive Acadia Elevation edition paint that looks to give a more rugged look to the SUV. The 2022 GMC Acadia SLE starts at an MSRP of $34,800 (plus destination fee). The Denali trim, which is the highest level trim, comes in at an MSRP of $46,600 (plus destination fee).
Safety and Technology Features of the 2022 GMC Acadia
Regarding safety, GMC has made sure to place an additional emphasis on the 2022 GMC Acadia. The new family-sized SUV gets the standard GMC Pro Safety Plus package. This package includes automatic emergency braking, front pedestrian braking, and lane change alerts. The 2022 GMC Acadia provides consumers with an affordable family SUV that takes safety and comfort into consideration. Although it has struggled to compete with competitors, the 2022 GMC Acadia should be considered for its versatility and higher-end trims.
Come Test-Drive a Brand-New Buick at Southern Buick Lynnhaven!
Reserve your own 2022 GMC Acadia today with us at Southern Buick Lynnhaven. Here at Southern Buick Lynnhaven, we're all about helping our customers enjoy their shopping experience. We have a friendly and passionate sales team that will make your buying, leasing, or selling needs easy. Browse our new vehicle inventory or check out our quality pre-owned inventory. We can offer suggestions like auto financing to help make paying for a vehicle easier. 
Don't forget we have a trained service team that can help with an online appointment to get started on all maintenance work and repairs. Stop by today and see what we can do for you at Southern Buick Lynnhaven.
Photo Credit: GMC